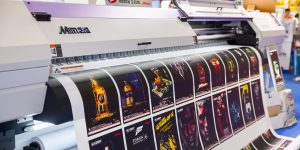 Through the years on-screen visual capabilities and resolution has improved. We are seeing funky full colour 3D logos, animated apps and website designs as well as high quality video production.
Evolution in one industry has a roll-on effect to other industries. This is always going to be the case. Despite, in theory being two industries, in reality, the digital technology and printing industry are both in the advertising and communications space.  
So as a result of digital technology lifting it's quality, printing has also had to raise the bar.  One colour printing, whilst still relevant, doesn't cut it as much as it did in the past. Now we have full colour direct digital, sublimation and direct to garment printing becoming the status quo. To someone not in the industry, this sounds like a lot of fancy words. In essence, you can now print photo quality designs on physical products:
direct digital print on a flat surface (like notebooks and compendiums)

direct digital printing on a slightly curved surface (like pens)

rotary digital prints on a curved surface (like sports bottles)

100% cotton apparel and bags with direct to garment printing, which is a completely different look to heat applied transfers

Polyester apparel and bags with full colour dye sublimation
There is also an increased demand for personalisation, which is also available via digital printing.  This is also known as variable-data (VDP) or variable-information printing (VIP or VI), in which elements such as text, graphics and images may be changed from one printed piece to the next, without stopping or slowing down the printing process and using information from a database or external file.
The exciting thing about products being printed digitally, is that as the technology continues to improve, then the costs will become even more cost effective. Something that will not just impact promotional products, but printing across all material types.
The fashion industry is a good example of how digital printing has created opportunities: "It currently takes anywhere from two to three months for traditional screen-printing. Digital printing by comparison can happen immediately. Digital printing ensures higher quality, more unique designs at scale, greater variety of rich colors and more. It's literally possible to take a picture on your iPhone today and print it onto a textile at photo-realistic quality straight away.
The cost performance for small production runs also means looks can be created on a scale of one – rather than thousands." (Source: How Digital Printing Technology Is Taking Us Closer To Fully Customizable Clothing, by Rachel Arthur, forbes.com, February 2017).
If you are looking for a promotional product that will stand out; that the recipient won't want to part with; that others will envy, then it's definitely time to think about going all the way – and letting your brand shine – through a beautifully designed and printed product.