Why TurnKey?

TurnKey Promotions is a boutique agency specialising in promotional merchandise and product development.
We provide a helpful and consultative experience that is tailored towards our clients Branding, Values and Vision.
Our friendly and professional team are focused on a partnership that delivers precision in planning, quality products and timely delivery.
Our Mission
"To delight our clients with creative and innovative products, delivered in a friendly and professional manner and on time."
TurnKey Promotions has worked with communicators and marketers across a wide range of industry sectors to provide creative solutions for a variety of purposes. Whether it's urgently finding that last-minute promotional product for an important event or working through a fully-developed promotional campaign, TurnKey Promotions is a committed and excellent partner to work with.
APPA Code of Conduct
In conjunction with the APPA Constitution, the Code sets the standards for relationships between Members, best practice with clients and general good order with respect to business management, including compliance. Acceptance of, and adherence to the Code, is a pre-requisite of Membership.
The purpose of this Code is to encourage productive, ethical, and mutually beneficial commercial relationships across the supply chain for the benefit of the industry and end-users. This Code details the responsibilities and required conduct for all Members of APPA.
The Way We Work
We engage with our clients through a four step process: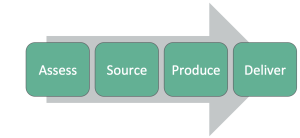 Assess
– Understand the client brief.
– Validate the client brief.
Source
– Sourcing of suitable concepts.
– Present concepts.
– Validate the approach with the client.
– Order confirmation and artwork approvals.
Produce
– Manage production of products within trusted network of factories / decorators.
Deliver
– On time and on brand!