Not Just Another… Charger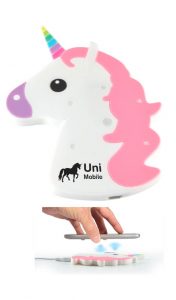 Running out of mobile battery has climbed ahead of death and public speaking as our biggest fear! How life has changed!!! This is a bit of a joke, but there is a thing called "low battery anxiety'. An LG Survey revealed (sourced by Daily Mail Uk):
90% of us panic about losing power on our phones

32% of us will drop everything to head home and charge phones
With the current battery capacity compared to the power required to run more complex apps at faster speeds, our batteries are running out a lot sooner than they ever did.  
Phone charging Technology continues to improve. With wireless charging becoming the latest must have.
What's so good about the inductive wireless charger, is the charger transfers power from a charging device to a receiver without a cable. On top of that, you can brand your own wireless inductive charger, as a means of reducing 'low battery anxiety' for your customers or staff.
Phones that have wireless charging:
Apple iPhone: 8, 8 Plus, X

Samsung Galaxy: S9, S9+, Note 8, S8, S8+, S7, S7 Edge, Note 5, S6, S6 Edge

LG: V30, G6 (US version only), G4 (optional), G3 (optional)

Microsoft Lumia: 1520, 1020, 930, 929, 928, 920

Google Nexus: 4, 5, 6, 7 (2013)
Benefits of a wireless charger:
Safe way to charge your phone

Easy to charge by placing your phone on the charger

Never have to find the right cable for your phone.

Can listen to music and charge your phone at the same time
Tags: branded promotional gifts, Inductive Phone Chargers, mobile phone chargers, Phone Charges, promotional, Promotional gifts Sydney, Promotional Products, Turnkey Promotions