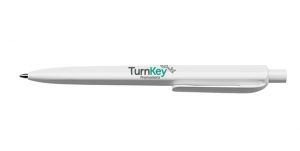 Pens would have to be the most popular choice for a promotional item. So versatile, always needed and easy to brand. But there are lot's of different pens, so how do you choose?
I think most of us have used promotional pen after promotional pen, finding that they don't work to begin with or last for no time at all.
The Turnkey pens were more expensive, but they last. I have lost count of how many people have told me about how good the pens are, or how often I see people pull this pen out, or even ask for another one! They have proved to be a nice reminder of what we do and the quality we provide.
If you are going to the effort and expense of buying promotional pens, invest in one that works. Cheap pens speak volumes about your brand. So don't be afraid to choose a pen for your next promotional campaign, just make sure it's going to make a mark!