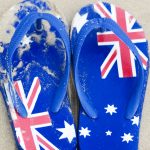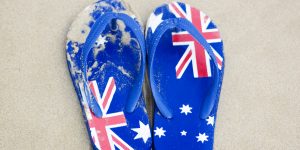 Flip flops, thongs, jandals or as they're known (somewhat bizarrely) in South Africa, slops. The cooler more casual sibling of the sandal, there's few summer footwear options more versatile or fashionable.
It's a design that doesn't really need reinvention. At least in the form factor. They've followed a consistent design since their inception in Ancient Japan and Egypt. So even today, in your cheap and cheerful thongs, you can follow Pharoah Chic and Samurai style.
They can be made to last a few weeks or a few years depending on the materials. Though I must admit a friend of mine had a pair that cost $2 that survived a four month trip around Asia with nary a scratch or tear.
We can offer highly customisable flip flops that can be manufactured in no time at all without sacrificing style. With a robust sole that's designed specifically for high definition, full colour printing, you can keep your range varied.
Flip flops are popular with all ages, from toddlers to teens and far beyond, their versatility makes them an invaluable summer accessory. With a variety of printing options, simple and complex designs alike are readily available. For the discerning patron on race day looking for a simple solid colour pair to change into when the heels get to be too much, right down to the hyperactive ten year old who wants their favourite superhero emblazoned on their summer shoes. There's something for everyone.