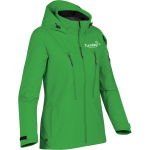 Take advantage of branding opportunities in wet weather! The Rain in Spain SYDNEY falls mainly on the plain… If you're in Sydney, you are probably absolutely over the month of non-stop rain we've had. The commute to work is slower, kids' sport has been cancelled, and you've watched Netflix's entire library. It's been dreary, however people don't stop their entire lives because of the weather. All the rain we've had makes it easier to raise the profile of various gifts and branded gear your organisation can provide for use in the wet, or even if it's just cold and damp.
There's no such thing as bad weather …
Despite the rain, life goes on! The game of golf scheduled still goes ahead, most outdoor winter sports play in drizzling rain, and outdoor training sessions go ahead unless it's bucketing – three reasons why branded wet weather gear is a solid investment. A quality rain garment is treasured in every household, while umbrellas and outdoor pop-up marquees are all useful practical items that will ensure your branding and message receives multiple impressions. Give your staff, clients, and customers an opportunity to be outside with the appropriate clothing and they will feel special and  rewarded whilst wearing it.
If you are looking at the apparel market, you're in good company. In 2013, the Australasian Promotional Products Association (APPA) noted that of the $1.55B of sales to end users, apparel is by far the biggest category, accounting for a third of sales. What's also important to note is that 89% of consumers recall the name of the advertiser on a promotional product they received in the past 24 months according to Innovative Marketing Consultants. Imagine having brand recall up two years after you've given a promotional product!
Promo Gift Tip: Customise and personalise as much as possible! The thought and effort into selecting a gift pays big dividends. If you can personalise a gift as much as possible, it gives the recipient a greater emotional connection.
Wet weather rain jackets – What to look for:
A lot of time and innovation is invested these days in making technical apparel to perform appropriately in all types of weather conditions and outdoor activities. For the wet weather, the higher the waterproof rating, the more precipitation the fabric can block from crossing into the barrier, thus keeping you drier for longer, as well as featuring sealed seams, waterproof zippers and articulated hoods to provide you with maximum weather protection so you can remain warm, dry and comfortable all day long.
Some jackets available have been field-tested for performance in a wide range of climates and weather conditions.  For the wet weather jackets have 3 water resistance levels; basic water resistance jackets are showerproof and suitable for light rain /drizzle situations.  High resistance is the next waterproof level and then extreme resistance, which will keep out heavy rain if outdoors for a long time and still allowing the garments to remain breathable and keep sweat away from your body. If an outdoor activity will get your heart pumping faster, this is what you want.
Non breathable waterproof garments include the promotional style ponchos. Although they don't breathe they will keep wearers dry if they are out in the rain.  There's a variety of different quality ponchos available to showcase your branding and they are a great for outdoor events to allow you to show guests you're keeping them in mind when menacing clouds arrive.
Umbrellas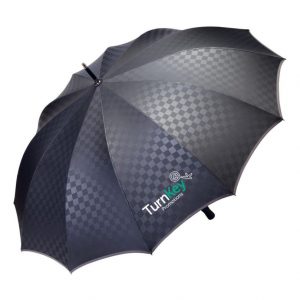 Walk down any city street on a rainy day and you will notice that half of the umbrellas popping up are branded with a logo, while the other half are plain black! There's nothing like an umbrella with your logo on it to reinforce your brand. Whether it's for a golf game, going to the footy, or walking from the station to work, umbrellas are a tried and trusted means of getting your logo seen. Colours and logos can add some enthusiasm to an otherwise dreary day, so think about how you can use your logo against something other than a black background. It's not just golf umbrellas that do the trick either, branded café and market umbrellas grab people's attention at various outdoor locations, while marquees for that outdoor event will draw guests to you and are an absolute lifesaver when the heavens open.
Keep your gear safe and dry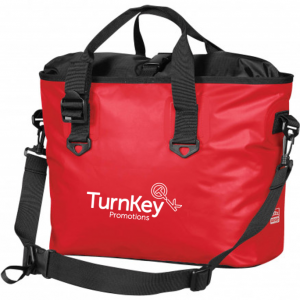 You've managed to keep yourself dry underneath your umbrella wearing a waterproof jacket, but there's nothing worse than realising your bag is completely soaked through … as are all the documents, electronics, contents contained within.  Rather than needing to pack the valuables into plastic bags before you venture outside, you can use a branded waterproof bag you received as a gift recently, to save the day.
There are a great range of waterproof bags that can keep your bag contents safe and dry.  Choose from different sized backpacks, duffle bags, tote bags and even protective laptop bags.
Enjoy,
Diana
Diana O'Cobhthaigh, is the owner of Turnkey Promotions, boutique agency specialising in promotional merchandise and product development. Turnkey Promotions provides a helpful and consultative experience that is tailored towards our clients' Branding, Values and Vision. Diana and Turnkey Promotions are focused on a partnership that delivers precision in planning, quality products and timely delivery.