This Summer, Make Your Event (and Brand) Sizzle with Outdoor Use Promotional Products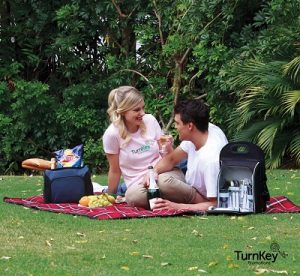 Long, warm days in the spring and summer months invite people outdoors for recreation and business! The warmer months are a perfect opportunity for promotional branding to reach new audiences in situations that may have not been seen before.
Promotional products geared for use at outdoor events, or for use by clients while pursuing outdoor activities have a similar impact as outdoor advertising as they aren't hidden away indoors as a USB, pen or other office gift sometimes can be.
With this said, a good outdoor-use promotional product can become part of the environment. Items such as water bottles, sunscreen, shade tents, umbrellas, and picnic rugs get a lot of use and visibility.  When attending your event, your clients, customers and guests have no control over whether they see it or not giving your campaign more impact for a longer period of time than expected. If your promotional product is one a client can take home to use again with friends and family, then this makes the campaign period even longer. Most outdoor activities are social by nature and include a lot more than one person; picnics, visiting parks and beaches, exercise, all usually involve a group of people making the most of beautiful warm days.
Research from the Australasian Promotional Products Association (APPA) shows that promotional products can increase your brand's reach!
91% of people have at least one promotional product in their kitchen, considering most people spend on average 3 – 5 hours a day in their kitchen, this provides a lot of brand impressions
56% keep a promotional product for longer than a year
and nearly 50% use them daily
This spring and summer, think outside the box for your next promotional product. There's a myriad of options for outdoor events and outdoor use that will ensure your brand gets a lot of visibility during the warm holiday months.
Enjoy,
Diana
Diana O'Cobhthaigh, is the owner of Turnkey Promotions, boutique agency specialising in promotional merchandise and product development. Turnkey Promotions provides a helpful and consultative experience that is tailored towards our clients' Branding, Values and Vision. Diana and Turnkey Promotions are focused on a partnership that delivers precision in planning, quality products and timely delivery.