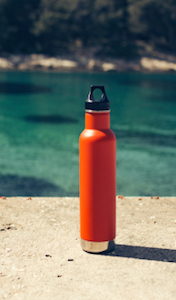 It's a problem we've all faced. Overpriced coffee. It's as certain in life as death and taxes. Between waiting in line for a $4 flat white in the heart of Sydney or pouring lukewarm filtered coffee out of the office pot, you can feel somewhat short of a choice.
If that description brings you to shudders, don't fear, there is hope yet. Whilst increased storage options and mammoth company fridges have allowed people to start bringing their home crafted lunches to their desk, the same hasn't been afforded to hot drinks. It's about time that changed.
With a range of vacuum sealed drink bottles, you can bring the taste of your favourite brew to the office and beyond. Able to store hot drinks for up to 12 hours, the vacuum sealed bottle is perfect for the modern working environment. Whether you're a sedentary worker, or always on the go, with a range of varying sizes and simple, elegant styles, you'll never be caught short of your favourite energy boost again. Gone are the days of pounding back an espresso at your desk, and having to head straight back out to find another when your craving gets the better of you.
Even if coffee or tea isn't your thing, this product can keep cold drinks cold for up to 24 hours. Your first sip in the morning will be just as refreshing as your last on the way home.
All of the bottles are made with a durable stainless steel finish which allows for a clear laser engraved company logo, name or design. Not only are the bottles eco friendly, being made of 100% recyclable materials (no dreaded plastic liner either, ensuring the beverage remains chemical and odour free), but they also have an almost indefinite lifespan.
Combining function with form, this handy little tool will keep your brand clear and visible for as long as necessary, with a sleek, minimalist design that leaves room for creativity and longevity.