Not Just Another… Beach Umbrella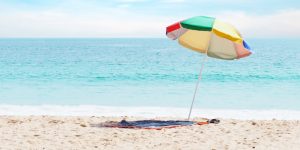 It isn't a bad problem to have, fending off the sun rather than the rain. But as December comes and falls away and we all stumble forward, probably more than a little tipsily, into the blinding sun of 2019, more than a few of us will be feeling the heat.
It's easy to spend Christmas week cooped up inside, nursing a nice port and eating yourself into a food coma, but then it's time to get out and let the fun of the sea and surf wash away the accumulated kgs. Or at least move the eat fest to the beach.
Either way you're going to need a spot of shade, and with the holiday season being a time of friendship and family, you're probably going to need a lot of the stuff. Beach umbrellas are a mainstay in the arsenal of any sun lover. The stars of postcards and boardwalks, you can't have a beach without a beach umbrella. Easily stored, carried and large enough to keep everyone cool and relaxed.
Large but also lightweight, the Bahama Beach Umbrellas eight panel design fits all the necessary specs for safe fun in the sun. Boasting a reflective silver lining with a UPF 50+ protection, short setup time and a nifty carry case, it's a product that's going to get around.
With options for screen printing and digital transfer, branding is exceptionally easy. Beaches are wide open, easily accessible spaces that provide a lot of visibility and footfall. With a striking design and logo on the showerproof polyester canopy, it'll be easy to stand out, come rain or shine.
Tags: Australian Summer Promotional Products, Beach Umbrella, branding, marketing, Promotional Products, Summer Promotional Products, Turnkey Promotions