TurnKey Promotions is a proud member of APPA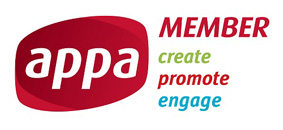 TurnKey Promotions is proud to be an accredited member of the Australasian Promotional Product Association (APPA).
APPA is the only professional trade association specifically for the promotional products and promotional marketing industry in the Australasian region. APPA was established in 1986 and promotes the development, integrity, professionalism and creativity of the advertising form dedicated to promotional products and promotional marketing ensuring good business practices and the highest industry and community standards. 
APPA members are the leaders in creativity, professionalism and competitive pricing. Members are bound by the APPA Code of Conduct and APPA Constitution and also protected through our dispute resolution process.
Finding promotional products through other means like online searching is fraught with pitfalls and uncertainty. The most important step is ensuring you are buying from an APPA Member before you buy. 90% of all complaints received by APPA are made by consumers who have bought from non-members!  It is crucial to protect your business by purchasing from reputable and professional companies.
Many web searches for promotional products include companies who have either been rejected or expelled from APPA for a number of reasons, including previous unethical business practices. It is also important to remember that not all products (or companies) that look alike, are alike! Beware of buying solely on price without inspecting a product sample first. Make sure you ask informed questions from your promotional products professional. Avoid companies who claim to be 'Number 1' or 'The Best', as APPA doesn't rank members. APPA Members work to provide the highest quality products and creativity. and are responsible for the creation of some of the best promotional campaigns and most innovative products in the Australasian region.