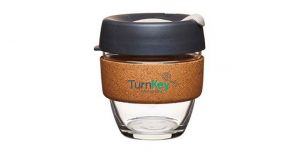 It's so topical. Your regular take away coffee cup is not disposable, despite the fact that it is made of paper. Your clients and customers are becoming more educated about this issue, and are getting on board the movement to save nearly 1 billion coffee cups from going to waste each year in Australia. So why not consider reusable choices?
One of the most popular ways to embrace this trend is the reusable cup trend. So many options to choose from, design through to branding applications.
Plus – a money saving bonus! Over 1,600 café's are now offering a discounted price on your coffee when you use a reusable cup, which gives you something extra to talk about when you present this item as a gift. Visit https://www.responsiblecafes.org/ to find a cafe close to you that offers this.
This is one fashion item that can be really positively aligned to your corporate and brand values.