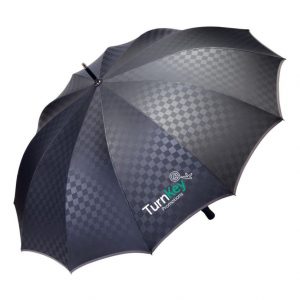 The go-to promotional item for so many businesses, particularly if there is someone in the business that plays golf. And who doesn't want a massive umbrella?! No fun when the sun is out, but when the rain hits, you couldn't be more in love. The umbrella has its hero moment.
So it's a bit of a winner as far a promotional item… but how do you get more out of this medium and avoid becoming another boring golf umbrella.
Think about your brand positioning.
Think about your customers.
How can you find the sweet spot between your brand, the customers and the promotional item?
Can the message be more than your logo?
Is there an opportunity to stretch the usage? Smaller umbrellas may be the answer during hot summers.
How do you stand-out from the crowd of branded umbrellas, so the user becomes excited to see rain fall.
Let us know if an umbrella is on your wish list as your next promotional item, and we can work on a way to get more interest from this perennial favourite.