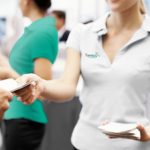 Create impact at your next business event and ensure your organisation is remembered long after the conference or event has ended.
Events are the perfect opportunity to invest in branded apparel and promotional products for staff and customers. Promotional products are a necessity if you're exhibiting at a conference or expo and you want to attract attention and also keep your company top of mind.
Over 37 million people attended more than 412,000 business events across Australia in 2013-14. These numbers have climbed in the years since, with meetings and conventions forming the largest component of the industry in terms of events, delegate numbers, expenditure and value add. With this in mind, it's a good way to capitalise on your next business event, whether it be a conference or large scale trade show, with branded products and gifts that put you top of mind with potential clients and help develop strong business relationships and future opportunities.
5 things to consider before your event:
1. Have a clear objective or goal: What do you want to achieve with this event? Do you want to create exposure of a theme or simply your brand with attendees? Whatever your objective, consider having promotional items such as tote bags as they act as billboards with repeated exposure of your logo throughout the event and after.
2. Timing and Budget: A lot of the time you know exactly what you want, however, may settle for less as you run out of time. Once you have confirmation of the event date, use your promotional product consultant or let us know; what you want to achieve, your budget and you'll be provided with a range of concepts to help you achieve your goals.  We have worked with a number of clients that have finalised everything for the event and when asked by management 'What are we giving out?' only have a week or two to turn around the perfect promotional product for the event … with limited and uninspiring options available in short lead times.
3. Remember Before, During and After: Don't only think about handing out promotional products during an event. For an even better impact, you could consider promotions before and after the event as well.  Some ideas before the event might be an invitation with a creative product or a teaser to encourage the attendee to visit your stand and receive another gift.  You could reward those that attended your event with another item to remind them of your organisation and keep the enthusiasm going.
 4. Target Audience: The key to getting your branded products kept and taken back to the office or home, is to provide useful products that suit the target audience! It shows you have done your research and will ensure you stand out in an already crowded advertising arena with give-aways that make guests want to visit your stand to get the item.
5. Size Matters: If attendees have travelled interstate or internationally for the event ensure the product is suitable for travel. In this situation, sometimes smaller more thoughtful items can have more impact than larger items like water bottles that can take up too much space in carry-on luggage or breakable items such as glassware or coffee mugs.
For creative ideas to help you with your next meeting, conference, trade show or business event, we're here to help.
Enjoy,
Diana
Diana O'Cobhthaigh, is the owner of Turnkey Promotions, boutique agency specialising in promotional merchandise and product development. Turnkey Promotions provides a helpful and consultative experience that is tailored towards our clients' Branding, Values and Vision. Diana and Turnkey Promotions are focused on a partnership that delivers precision in planning, quality products and timely delivery.