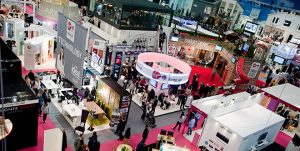 Tradeshows are a dime a dozen. If you have recently been to the ICC in Sydney, you will see that there can be up to five shows on any given day. This year alone, I have gone to over five tradeshows.
Tradeshows are a great way to engage with your current and potentially new customers in a way you cannot do online.
But it's a show. It's theatre.
The more theatre, the more engaging, the more customers to your stand, the better the opportunity for new business.
The same people are attending the same tradeshows year on year, it's in everyone's best interests for business and brands to continue to bring new life to their stand.
Here are our tips for putting on the show:
Each year start with a blank canvas – Open the door for some new thinking. How can we do it better than last year?
Communicating to your customers before the show telling them what they could expect when they visit.
Create space in your space. More room for customers. And the more customers on your stand, the more drawn to the stand will any passers-by.
Bring some fun. What are the fun spikes? This is good for both the staff on the stand and the customers.
Food is always a draw card. As long as it's relevant. Having chocolates and snacks gets people, but it's even better if the give-away has a direct association with what you do. Promotional products are a great take-home. If you take the time to create something that is too good to discard post the show, it's a great opportunity for your brand awareness and consideration. Even better if you tie in a call to action.
Stand design… it's worth the investment. It's the difference between someone stopping or not. You want to stand out. What will it take for you to be up there with the best of the best.
Follow up! Get leads, add to your database. Then make sure you follow up and keep interacting after the show.
Energy is everything. Dynamic personalities that can speak to anyone and everyone and have fun at the same time. Find these people to work on your stand so you make it work hard, and get a great ROI.