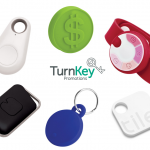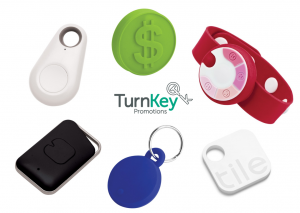 Who doesn't love tech gadgets? Let's face it, a lot of tech gadgets might sound beneficial as corporate gifts at first, but after a while they become obsolete. One of the handiest tech gadgets around is the Smart Tag … a convenient Bluetooth / GPS tracker that can help you find your keys, wallet, bags, or anything of value that can be lost or misplaced. Tracking children, grandparents and pets are also possible!!  With some devices you can even find your phone by pressing a button on the Tag to make your phone ring, even when it's on silent!
Lost time looking for lost items
According to The Tile, the average person misplaces upwards of 3,000 items a year and then spends over 60 hours a year searching for them. All told, our misplaced stuff adds up to billions of dollars annually. When you attach a Smart Tag to an item, you are really tethering them both to your phone an easy to use downloadable app.
The most commonly lost things tend to be small (keys, wallets, bags, luggage, pets), however, you'd be amazed at how frequently big items also go missing.  A true story of a man who's motorbike disappeared from his home with a Smart Tag on it. He uses the app to mark his motorbike as lost and found that it had been taken for quite a drive and was soon reunited with his treasured motor.
A variety of shapes
Smart Tags come in all different shapes and sizes.  The key ring versions can be added to a set of keys, attached to a bag or backpack; whilst the coin version can be placed in a purse or wallet or left in a car. There's also a wearable watch version so you can easily track your kids or partner in crowded places like shopping centres and amusement parks … not to mention it also comes with a handy UV indicator to keep an eye on sun exposure when at the beach or having a picnic.
No matter what the size, we have a style that will fit your logo, making it a great corporate gift your customers will be grateful for in years to come.
Applications
Home: Who hasn't lost their keys or wallet in the home? With a Smart Tag you can easily locate these items. See the last place you had it on the map and make the phone ring when you get close!
School: Parents wanting to keep an eye on kids walking home from school can place a coin smart tag in a school bag or attach a keychain version.
Sports: A Smart Tag in a sports bag at an athletics carnival can reduce the amount of stress involved in finding your bag amongst hundreds of others.
Caregivers: If you're a primary caregiver of elderly parents who are suffering from dementia, Smart Tags can be used to help locate relatives who may have wandered away from home or attach one to a bracelet they wear to help find them quickly should they be difficult to locate.
Office: Leave a Smart Tag in your purse or laptop bag provides peach of mind with added security.
Pets: A Smart Tag attached to your pets collar will help you find them if they manage to run away, especially during storms or fireworks.
Travel: Smart tags will make finding and collecting your luggage after a flight simpler and quicker or place coin smart tag in your passport wallet and it will always be easy to find.
And after all that as the band U2 believes, if you still haven't found what you're looking for … then it's probably not meant to be found!
Enjoy,
Diana
Diana O'Cobhthaigh, is the owner of Turnkey Promotions, boutique agency specialising in promotional merchandise and product development. Turnkey Promotions provides a helpful and consultative experience that is tailored towards our clients' Branding, Values and Vision. Diana and Turnkey Promotions are focused on a partnership that delivers precision in planning, quality products and timely delivery.