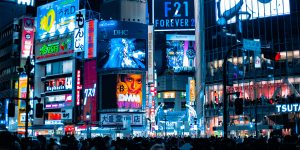 In an increasingly diverse and ever-expanding marketplace the temptation to go big, better and more in-your-face, can be overwhelming. There's a time and a place for more restrained and exact branding, and it's here and now.
When the average person thinks logos, advertising and everything brand-related, they probably picture seas of logos, flashing lights and electronic technicolour. Think Times Square, Piccadilly Circus, Shibuya Crossing. It's a trend that persists and exists across cultures and continents. From Tokyo to the Big Apple, bigger is seen as better.
It's an approach to branding that attempts a sort of omnipresence. Being here, there and everywhere as a constant reminder and reinforcement. The Trump approach to advertising, who focuses on a relentless self-aggrandisement. Slapping a name, big and gaudy, on every product and property. Steaks, planes and towers, all under one almighty title. It's worked to mix success for Trump, and in it's modern context, this sort of very personal branding will divide audiences. Because it's so tied up in perceptions around his character and what he represents. Success depends on how he, or his name, is perceived. Regardless of what's being sold. Trump steaks aren't sold on meat quality, the brand brings images of wealth and excess from its bombasity. That's the selling point.
Relentless branding, and its relative effectiveness, comes down to the extent to which the brand is tied up in the success and essence of what's being sold. Hello Kitty, whilst very different to the Trump brand, operates with a similar ethos, albeit one that is arguably more effective. The image of Hello Kitty herself is inexplicably tied to the brand and target audience. She is visual shorthand, aesthetic and selling point all in one. Overbearing and ever-present but also highly targeted in terms of audience.
It's about knowing the product and the brand, the extent to which they exist synonymously, and what one says about the other. Targeted digital advertising allows any brand an omnipresence if done correctly. But that doesn't necessarily make it the right approach. More subtle approaches to branding are becoming more numerous, and more importantly, are reaping the rewards.
Recent years have seen even the biggest brands; Coke, Durex, McDonald's. Move towards a more minimalist design aesthetic with a focus on simplicity and stark design. There's also been the rise of brands such as fjallraven and Paperchase, which tend to focus on simple elegant design acting as branding.
This trend is also present in larger scale retail and businesses with wide product ranges. General Motors shrunk its brands from eight to four, and saw a 16% increase in sales within the year. Head and Shoulders reduced it's product line from twenty-five to sixteen and saw a 10% bump in sales. You can get even more mundane. Aldi, which has a far lower number of brands (and very little focus on brand recognition for individual own-brand products), less intrusive imaging and choices on offer, has seen a surge in popularity for exactly this reason.
Take a long hard look at your product(s), and how you want to brand them. It's all a balancing act, and your approach to branding should reflect the core design ethos. In being too brash and boisterous a brand can drown out its own appeal. Any recognition becoming lost in its own noise.