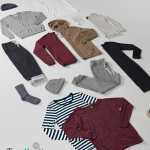 Yes, winter has arrived. It may not be as cold as our friends in the Northern Hemisphere, but we're feeling it!
It's not surprising then that you see a change in peoples behaviour during the cooler weather. Let's be honest, things slow right down. Lot's more watching TV and eating comfort food, but we also see more time spent in organising – planning for the upcoming busy Christmas period.
If you're looking for something that your staff and clients are going to love – you can't go past the basics of winter apparel. Everything from beanies & scarves through to fleece lined jackets are a super practical choice.
It's a great example of how you can combine fashion with your brand, and create a seamless transition into your customers lives.