Staying Connected in an Online World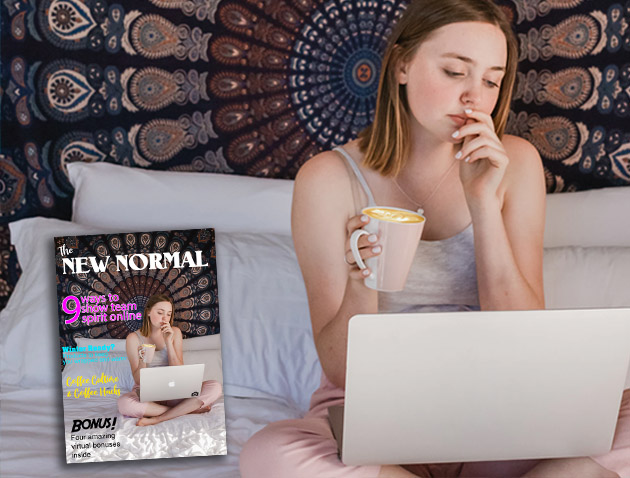 Join us as we explore ways to spark warmth and joy this winter, keep our minds and bodies active, and play with new ideas to promote team spirit.
It's true, Autumn is wrapping up and with daily time feeling so slow the seasons seem to have come and gone in a blink of an eye. The government is slowly allowing businesses to reopen, and while this is being phased in I imagine most of us will be spending this winter working from home. It's time to wrap up in a comfy blanket, light a candle or two and enjoy warm cups of coffee and tea. We have a lot to be thankful for and plenty of things to look forward to.
Are you ready for the new business attire this winter? 2020 is going to be about classic fleece blazers, matching trackies and fashion forward accessories like Sherpa lined wraps, also referred to as blankets. For those of us who are integrators and familiar mixing our work and home spaces this is a dream come true. For everyone else, I dare you to live a little #TryTheTrackies.
Keeping spirts high is the goal and we need to remember that we are still incredibly connected to one another. Life may feel a little more planned at the moment, but a healthy injection of some unexpected flair is all it takes to mix things up.
When we look into day to day office life we can see innovation and sparks of creativity that develop from impromptu social interactions. Collaborations and ideas come to life quickly when a thought can turn into a comment and lead into a chat during something as simple as a coffee break. True fact, some of my best ideas have come from unscheduled meetings or catch ups where there was no pressure to "have an idea". It's the camaraderie of a team that creates this energy and it enters into the workplace outside of standard lines. We don't plan to have side chats and personal moments at work but they happen and it creates our "work family".
This can still happen! I know accountability is key and it is important to make sure everyone stays productive, but I also think it's important to have fun, giggle, and share stories. Introduce a goofy idea, something as silly as an emoji sign. Your team can hold these up during virtual meetings to interact visually while being quietly ridiculous. After all, emjoi's were created to express emotions and ideas. What about branded pajamas, embrace the jest of people working in pajamas and try doing it in branded wear! Smiles are hard to resist and the more you generate the higher the team spirit.
You can also try taking a standard morning ritual like pouring a cup of coffee and make it a team event. Create a care package with a branded mug or tumbler everyone can use (this is also a great visual reference during online meetings). Bring the team into the experience with a morning minute where you talk about what you're drinking. Encourage the team to hold up their cups and discuss any new twists or tricks they've tried with their coffee. We can help get the ball rolling! Included with coffee item orders is a quick flip ebook for at home coffee hacks. It might sound funny, but that's the idea!
Another popular trend (which I say because it sounds better than the truth) is at home fitness. Keeping up our health has never been more important and staying active has become a new challenge in our day to day lives.
At minimum our daily regime needs to include basic stretching to ensure we are balancing the activity changes with working from home. We've partnered with an incredible physiotherapy company, Healix Health, have put together an entire collection of at home physio guides to help keep up our bodies active. Healix works to create healthier, happier and safer workplaces working with transportation, aviation and government industries. They have given us exclusive access to a guide focused on simple stretches and at home exercises that anyone can perform to keep their neck and posture aligned.  Their guide also includes exercises with resistance bands and we've included a few of our favourites that can be custom branded. We'll include this guide (can be customised with your brand and message) with any fitness item ordered.
As always your team here at TurnKey Promotions is standing by and ready to help.