Eco-Friendly Brands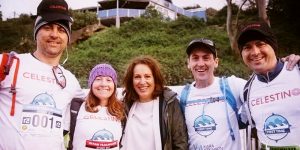 A brand for the future is a brand that concerns itself with sustainability. On the contrary, promotional items can help your business to become more eco-friendly. More sustainable. It's about discovering the opportunity from investing in a promotional item. The opportunity in what can be gained, for example, what it will replace or improve, so you both you and the environment can benefit in the long-term.
The Oxfam Trailwalker had a target of reducing waste by $18K this year. One of the initiatives at this years event, was the sale of 'KeepCups' in replacement of paper coffee cups (that unfortunately cannot be put in the recycle bins). A great example of an organisation putting sustainability at the forefront of what they do – not just in the communities they help but in how they themselves behave.
The Environment is one area of sustainability, but there is also safety in the workplace and at work events. There are different requirements for different businesses, but using re-useable apparel (hi vis workgear) or apparel that has been produced with minimal, if any impact, to the environment and to the communities it is produced in, is a great step forward.
The thinking about leading or nurturing your brands sustainability, ties back to clarifying what your brand stands for? If your brand or business is looking for different ways to increase sustainability for both the business itself and the wider community, then I encourage you to request promotional items that can continue your commitment in this area. Don't hold back in asking your supplier the questions around manufacturing, shipping, disposing, etc. This is what brings the value to the complete product.
If you are interested in finding out more about Eco-Friendly Promotional Products email: info@turnkeypromotions.com.au
Tags: Eco-friendly Brands, environmentally friendly, Turnkey Promotions