A Direct Route to the Heart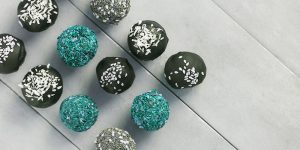 If you go to any office with a cake you are instantly the most loved person in the room. Particularly around 10.30am or 3.30pm. When people typically are thinking about food. It's not time for lunch yet, but they want a distraction of some sort, and they are feeling food could help on both a physical and emotional level. Unfortunately driving around delivering cakes is not something we can do every day.
A hamper could be the way to go. Yes, there are a lot of daggy hampers out there, but there is also plenty of beautiful gourmet Hampers to choose from. Recently we produced a box of Truffles for a client. And for Christmas, you cannot go past a beautifully wrapped Christmas Pudding.
Whichever way you go, just give some thought to your customers and your business – finding that sweet spot between giving them something they want and something that reflects the type of business you are.
If you need some ideas let's talk.
Tags: branded gifts, branded promotional gifts, Customer Gifts, Food Hampers, Promotional Products, Turnkey Promotions