Decoration Methods
EMBROIDERY:
A process where a computerised embroidery machine stitches coloured threads into material.  This process is usually available on fabric items such as apparel, bags and headwear.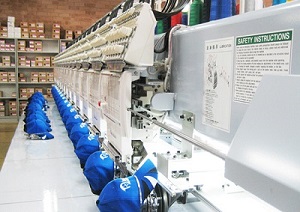 SCREEN PRINT:
Also known as silk screen, whereby ink is pressed through a fine mesh screen leaving a colour imprint on the surface of the material. This process is suitable for spot colour printing and is commonly used on canvas, cotton, polyester, nylon, microfiber and faux leather products.  Products such as bags, umbrellas and apparel.
TRANSFER:
A process where a design is printed on transfer material and then applied to a particular surface using heat pressure.  This process is usually available on canvas, cotton and polyester materials.  Transfers are a good option for full colour decoration on bags, headwear, umbrellas and apparel.
DYE SUBLIMATION:
The dye sublimation technique is used to print on polyester or other synthetic fabrics.  The images are initially printed on coated heat resistant transfer paper as a reverse image of the final design.  This is then transferred onto polyester fabric in a heat press operating at a temperature of around 180 to 210  degrees Celsius.  Under high temperature and pressure, the dye turns into a gas that permeates the fabric and then solidifies into its fibres.  The fabric is permanently dyed so it can be washed without damaging the quality of the print.  It is commonly used for application such as t-shirts, polo shirts, sportswear, banners, table covers and flags. Advantages are:
Images are permanent and do not peel or fade.
Dye does not build up on the fabric.
Colours can be brilliant due to the bonding of the dye to the transparent fibres of the polyester fabric.
Photo quality printing can be achieved with variations in tones.
The image / design can be printed over the entire item without any difficult printing near edges.
DIRECT TO GARMENT PRINTING:
Direct to garment printing (also known as DTG printing) is a process of printing digital or full colour photographic artwork directly onto garments. For the best possible print results with DTG it is recommended to print on 100% cotton garments and/or with a combed cotton fabric.  This print method is low cost and suitable for lower quantity orders.  Great for use on promotional t-shirts at trade shows and exhibitions.
PAD PRINT:
A process whereby ink is applied directly to the surface of the product via a flexible silicon pad leaving a colour print to substrates such as plastic, metal (including coated metals), vinyl, leather, glass, aluminium stainless steel and wood. This process is suited to producing small, intricate designs to be 2 and 3 dimensional products. Most commonly used with promotional product with small print area or to print logos in a smaller format, such as pens, keyrings, notepads, golf balls, USB Flash Drives etc.
BLIND STAMP / DEBOSS / EMBOSS / FOIL STAMPING:
A process whereby a die is pressed into the surface of the material, resulting in a depressed imprint.  Foil stamping is the same process, with foil pressed into the imprint. The process is usually available on vinyl, leather and faux leather products such as compendiums, notebooks, wallets, USB Flash Drives and diaries.
LASER ENGRAVING:
A process whereby a laser is used to burn an impression into the surface of an item.  Available on metal, glass and wood products. Common items are cheese or cutting boards, glassware, pens, key rings and picture frames.
ETCHING:
A process whereby a film mask is prepared to etch into the glass or crystal product.
SANDBLASTING:
Glass etching is a centuries old method of imprinting images on glass and another way to do it is by sandblasting. Sandblasting allows more variation with the use of different sand coarseness, depth blasting and gives a richer textured finish.