Why Christmas gift-giving makes good business sense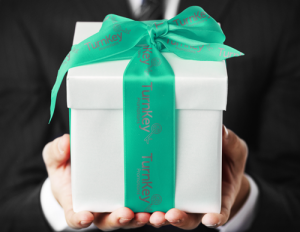 With Christmas just under two months away, NOW is the time to finalise your corporate gifts. The last months of the year fly by, so if you haven't thought about Christmas gifts yet, don't put it off any longer. Production times vary by product, so order sooner rather than later to ensure you have plenty of time to distribute them to staff, clients and customers. Ensuring your order is in soon safeguards against the silly season becoming manic.
Gifts to clients at Christmas time fulfills more than a feel-good festive function. Although that feeling of giving a gift that is equally well-received is great, there a few other reasons why giving a great branded corporate gift is more than good vibes!
Saying Thanks
The first and most obvious reason for gift giving is to say thanks to clients who are using your products and/or services and keeping your business humming along. It doesn't take much to say "I appreciate your business" on top of what you regularly deliver.
Build strong relationships and retain business
Every business wants to nurture client relationships and have them continue to choose you as their partner. Gifts at Christmas help solidify these relationships and give greater meaning to just another transaction.  If a business is completing 6 month budget reviews and are cutting costs and assessing service providers, now is the time to ensure that you make a great impression even if you're in front of them every day. A well-thought gift is one that will make you stand out and come to mind regularly in the eyes of your client.
Stay top of mind in a slow season
Most businesses shut down for at least a week over Christmas and New Year. While your contact might disappear for a summer holiday for most of January, a meaningful gift given before that holiday will have your business top of mind in what is usually a frantic time of year. If a client or key contact is not returning to the organisation, that personalised, thoughtful gift will be a reminder of you at the person's new company who may just need your services.
Diana's Top Gift Tips

You're the best at what you do, so give best-in-class gifts.

Send gifts that are visible, are used, and are a conversation starter that keeps you top of mind with the recipient.

Give gifts that serve a purpose, or solves a problem.
Chinese New Year: January 28, 2017.
Australia and China do so much trade and business with each other it's important to keep an eye on Chinese New Year. As well as planning Christmas gifts, it is important to look at any upcoming events occurring in the early part of the year as factories often shut down for up to 4 weeks over this time with increases in demand occurring. So before China shuts down, get your large quantity custom indent orders for offshore production in by early November, so you can celebrate instead of stress!
Best wishes,
Diana
Diana O'Cobhthaigh, is the owner of Turnkey Promotions, boutique agency specialising in promotional merchandise and product development. Turnkey Promotions provides a helpful and consultative experience that is tailored towards our clients' Branding, Values and Vision. Diana and Turnkey Promotions are focused on a partnership that delivers precision in planning, quality products and timely delivery.
Tags: business gifts, Christmas, Christmas gifts, Corporate gifts, Corporate Gifts Sydney, Promotional gifts Sydney, Turnkey Promotions