Can Promotion Products Build Trust?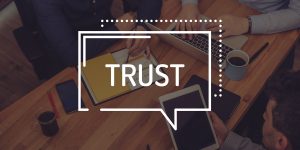 What value do you place on trust? And can you place a value on trust?
Well if you are AMP the value is very clear. Since the Royal Commission came about, the share price has dropped more than 70% – from $14 to $3.50.
In a recent survey on Australia's most trusted brands, Aldi and Bunnings won the race. A bit of surprise for Australians to trust a non-Australian brand like Aldi, more than they trust their own.
This may well be a reflection of how the brands are positioning themselves through their communication. Both Aldi and Bunnings tell the story of low pricing, of which they have been consistent with for years on years. As we know, consistency is a strong indicator of trust. Which for the other supermarkets has been a bit of a downfall in recent times, in respect to the 'should we or shouldn't we' provide plastic bags!
How are you building trust with your customers? Is your message clear, consistent and visible?
If a message is continually repeated for long enough, people believe. It's called the 'illusory truth effect'. Which means the tendency to believe information to be correct after repeated exposure. So the more familiar we are with someone or something (business, brand, product), the more likely we are to trust what they are telling us, if the message is consistent.
Trust is a core value to masses.
If you work on building trust, then customers for example, deal with you because they see a value beyond the tangibles of the service and product you are providing.
When you cannot physically be there, you have to rely on marketing to do the job. You want to make sure that the marketing is reflective of a direct experience. Hence the importance of being clear about who your business / brand is.
Building Trust with Promotional Products
When we are clear about who we are as a business / brand, through the marketing process we can start to think about branded merchandise. This will help us not only be selective in respect to aligning the promotion with who we are, but also aligning it with our customer, and how we can, through promotional products, continue to provide value.
Promotional products create an experience that lives on longer than 5 minutes and if carried out correctly the total customer experience builds value, consistency, familiarity, trust and subsequently loyalty.
Marketers in Australia, according to 'Promotional Products Work', spend $1.5-$2 billion dollars each year on promotional products for the following reasons:
1. 52% say their impression of a company is more positive after receiving a promotional product.
2. 76% recall the name advertised on a product.
3. 55% keep the item for more than one year.
4. Nearly 50% of recipients use them daily.
5. 52% of people do business with a company after receiving a promotional product.
The Importance of Quality
If it's trust we are building then quality also plays an important role. Whichever style of marketing / customer experience you decide to go with, the quality of that experience paints a picture about what type of business you are and whether they return and/or tell their family and friends about you.
According to business.com, one of the reasons why product quality impacts your brand is because it builds trust. "Countless potential sales are lost because a brand fails to make a deeper connection with prospective buyers. The quality of your services and merchandise is one way to help you get consumers to appreciate and believe in what you have to offer."
They also make a very good point about business success and trust working hand in hand. If a business cannot be trusted, business sustainability is virtually unattainable. Who wants to work with someone they don't trust? And if you are working with a business and you feel this way, you are always on the lookout for a replacement.
How to use Promotional Products to build trust
If you are thinking about your next promotional product or looking for a way to build trust with your customers, suppliers, staff, shareholders, board members, colleagues, etc, ensure you consider the following:
1. Align the product with your Business / Brand Positioning, tying into the consistency of your message.
2. Make sure you add value to your customer. This isn't limited to the product, but the total experience. How the product arrives, for example, do you present it or send it? What do you accompany the product with? How do you continue the story? How will they use the product? How long will they use it for? Will it help them in their daily life?
3. Provide quality products and a quality experience. Make it memorable and create lasting connections with your customers.
If you would like to talk promotional product ideas that build trust happy to have a chat.
Tags: Building Trust with Promotional Products, Promotional Products, Turnkey Promotions