Back to School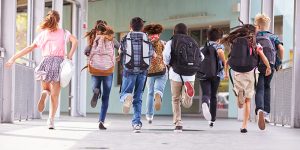 A number of large companies love to celebrate back to school, so there is a lot of noise around this time, which makes it even more important to be creative and stand out from the crowd if you want to cut-through. Your products and services may not be specifically targeted to school age students, however, imagine the exposure of your logo to mums, dads, teachers and the future generation. Consider the following questions and perhaps you too could run your own back to school campaign.
Who is your customer – Mums, Dads, Children, Teachers, School Suppliers?
Why would they want to hear from you?
How can your product make their life better?
What is your message?
What channel would you use to get your message across?
How can you reach them?
Who would you close the loop, so they continue their engagement with you?
What will the customer feel about your brand after this experience?
A promotional product is a great way to get your message out there, especially if you do it in
a way that's unique to your brand and is purposeful for the user.
Tags: back to school campaigns, back to school promotional products, back to school promotions, branded promotional gifts, Corporate gifts, Corporate Gifts Sydney, merchandise, promotional, Promotional gifts Sydney, Turnkey Promotions